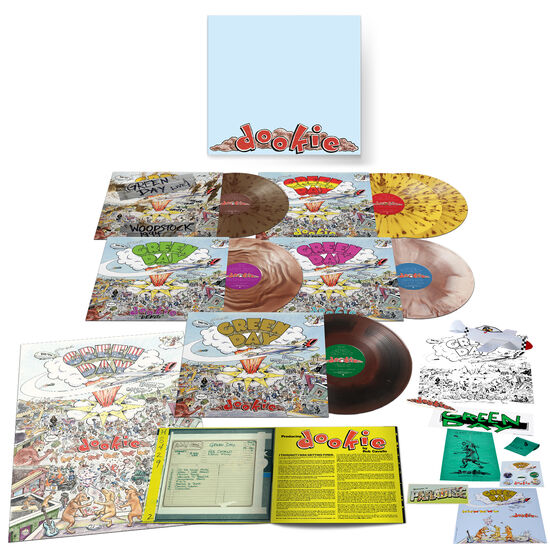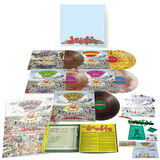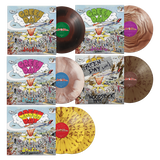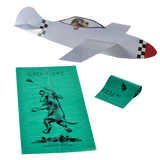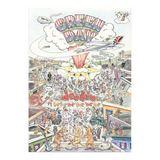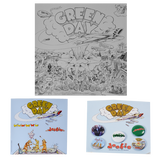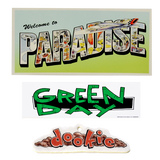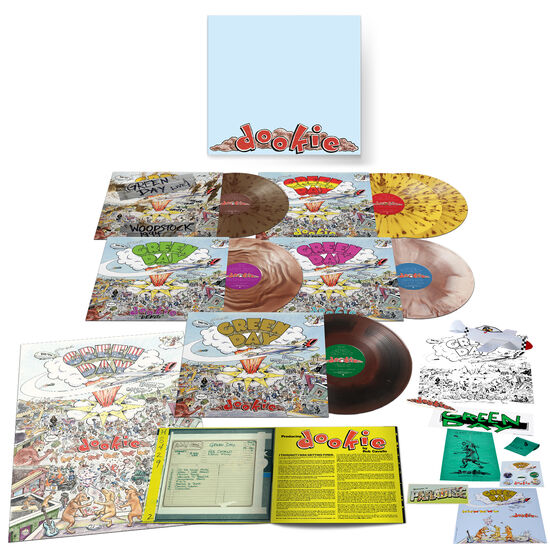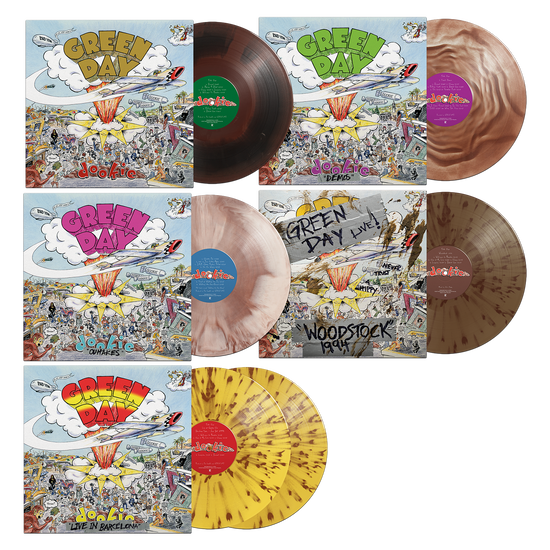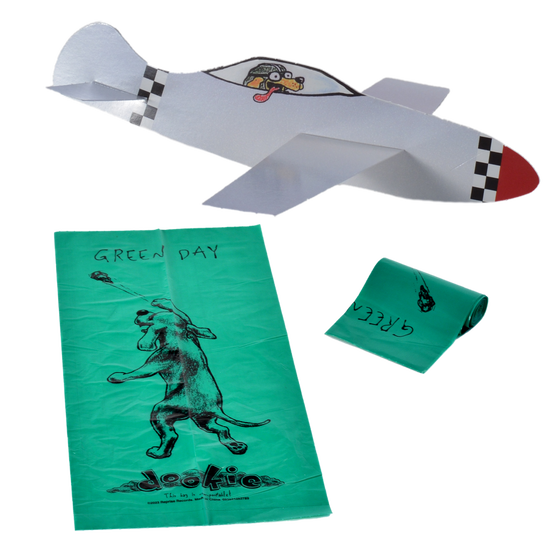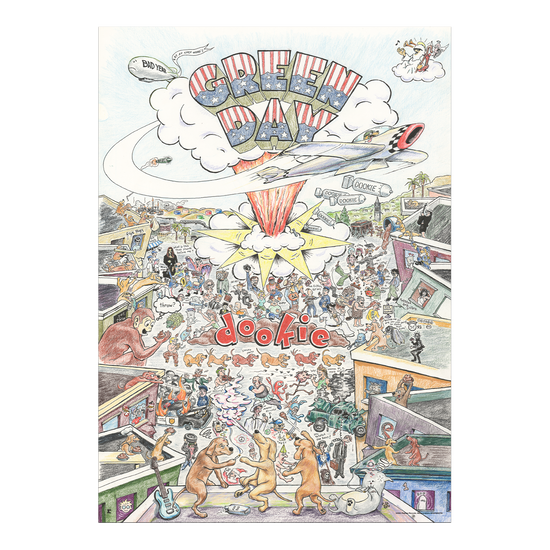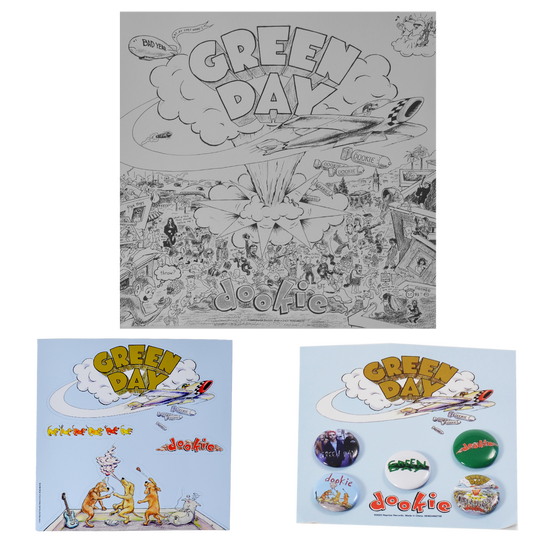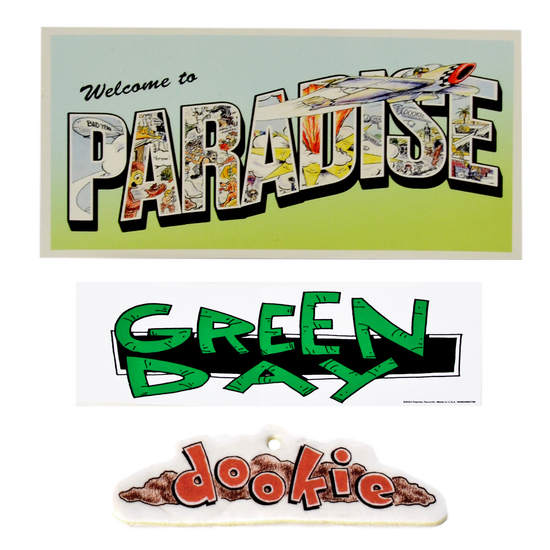 Dookie 30th Anniversary Color Vinyl Box Set
Availability:
Pre-Order, released on: 29 September 2023
Green Day's third studio album Dookie was released in February 1994, and has since sold over 15 million copies worldwide, including 10 million in the US (RIAA Diamond certified). The album is an iconic punk-rock-pop masterpiece and one of the most influential and defining albums of the 1990's. It spawned five hit singles that are still hugely popular songs: "Longview", "Basket Case", "Welcome to Paradise", "When I Come Around", and "She".

Limited Edition Super Deluxe Box Sets (vinyl and CD) will be released on September 29, 2023, to celebrate the 30th anniversary of this landmark album.

In addition to the original album, the super deluxe box sets will include a wealth of rare and unreleased material. The legendary Woodstock '94 performance is included – previously released as a very limited Record Store Day vinyl release. The 6 LPs also feature 17 unreleased demos, 6 studio outtakes (3 unreleased), and a 17-track unreleased club show from Barcelona in 1994.

This deluxe vinyl box features the six LPs pressed on 6 different varieties of brown vinyl, plus a 36-page 12" x 12" book. The box also includes many fun memorabilia items inspired by the "Dookie" artwork: Doggie Poop Bags, Air-Freshener, Poster, Color-in litho, Button Set, Magnet Sheet, Postcard, Bumper Sticker and Paper Plane.
LP 1
ORIGINAL ALBUM
SIDE A
Burnout
Having a Blast
Chump
Longview
Welcome to Paradise
Pulling Teeth
Basket Case
SIDE B
She
Sassafrass Roots
When I Come Around
Coming Clean
Emenius Sleepus
In the End
F.O.D.
All By Myself
LP 2
SIDE C
4-Track Demos
Burnout
Chump
Pulling Teeth
Basket Case
She
Sassafras Roots
When I Come Around
In the End
F.O.D.
When It's Time
SIDE D
Cassette Demos
When I Come Around
Basket Case
Longview
Burn Out
Haushinka
J.A.R.
Having a Blast
LP 3
SIDE E
Outtakes
Christie R
409 in Your Coffeemaker
J.A.R.
On the Wagon
Tired of Waiting for You
Walking the Dog (demo)
SIDE F
SIDE F HAS ETCHING, NO AUDIO
LP 4
WOODSTOCK (1994)
SIDE G
Welcome to Paraide (live)
One of My Lies (live)
Chump (live)
Longview (live)
Basket Case (live)
SIDE H
When I Come Around (live)
Burnout (live)
F.O.D. (live)
Paper Lanterns (live)
Shit Show (live)
LP 5 & 6
LIVE IN BARCELONA (June 5 '94)
SIDE I
Welcome to Paradise (live)
One of My Lies (live)
Chump (live)
Longview (live)
Burnout (live)
SIDE J
Only of You (live)
When I Come Around (live)
2000 Light Years Away (live)
Going to Pasalacqua (live)
Knowledge (live)
SIDE K
Basket Case (live)
Paper Lanterns (live)
Road to Acceptance (live)
Dominated Love Slave (live)
SIDE L
F.O.D. (live)
Christie Road (live)
Disappearing Boy (live)